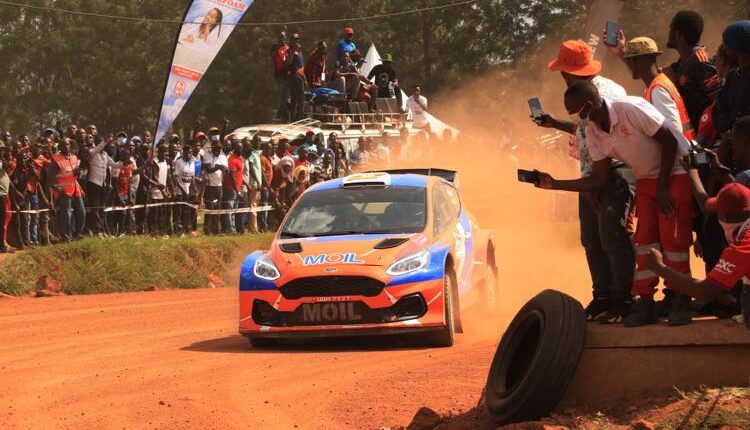 NRC 7: Drivers strain at the leash to be in Fort Portal
Written By: Herbert Mukiibi

Being the ultimate round of the Uganda National Rally championship, a number of local crews have shown interest in the event.The event dubbed- UMC Fort Portal city rally is to betide from 24th-26th November as slated on the NRC calendar with UMC being the organiser.

It was in 2015 that UMC raised a decision to host a National Rally Championship round in the western region for the fi rst time after four decades and Fort Portal was later confi rmed to be the venue as the competitive round returned to the region.

The event was by then aptly named, "UMC Mountains of the moon Rally,," as it was close to the scenic Mt Rwenzori ranges.

However, the event ended contraversially as it registered two winners, John Consta and Arthur Blick as both drivers registered identical times. It was a hard decision from the offi cials but later both drivers were announced winners and each collected full 100 points.

Fort Portal is well known for its fast and un forgiving stages meaning to collect accolades from there, a driver doesn't only have to be fast but instead technical as well. This has been evident for the past few years as we visited the city, the favourite couldn't always take it.

Previously in 2022, it was a dramatic event as the crew of Umar Dauda and Hamza Lwanga cruising a mitsubish evo 6 managed to recover from sixth position to register their maiden win in the NRC event.
Drama started with Ponsiano Lwakataka who was then the championship leader retired after 2 stages as his engine misfi red and Ronald Ssebuguzi retiring over oil pump failure.Duncan Mubiru then had a comfortable lead before he suff ered a broken diff erential that forced him to retire.

The battle for the win was then left for Mike Mukula, Samuel Bwete and Umar Dauda. However, Mike Mukula who was then a Club Man Rally driver covered his percentage to end his rally as Bwete dropped out in the last stage hence handing over the win to Umar Dauda who only maintained a steady drive.
This year, a number of drivers are hoping to re-write the stars in Fort Portal to cover their mis fortunes and among those are, Ronald Ssebuguzi, Ponsiano Lwakataka, Duncan Mubiru, Jas Mangat, Hassan Alwi, Umar Dauda, Yasin Nasser, John Consta…etc

A super special stage will be a highlight in the event as it will be a serious battle as a number of skillful and talented drivers will be battling each other cruising their newly acquired
powerful cars, i.e John Consta is expected to debut his Ford Fiesta Proto and Jas Mangat to
show up in his Hyundai i20 R5 car.

Yasin Nasser who is the reigning Ugandan champion is also expected to show up in this event
and excitingly to also gauge himself on Jas Mangat the three time champion in equal
machinery.

Fans should brace for an exciting event as the prestigious Super Special Stage will be hosted
at Kyakaigo Sports Arena, a venue remarkably known for its fascinating view points.