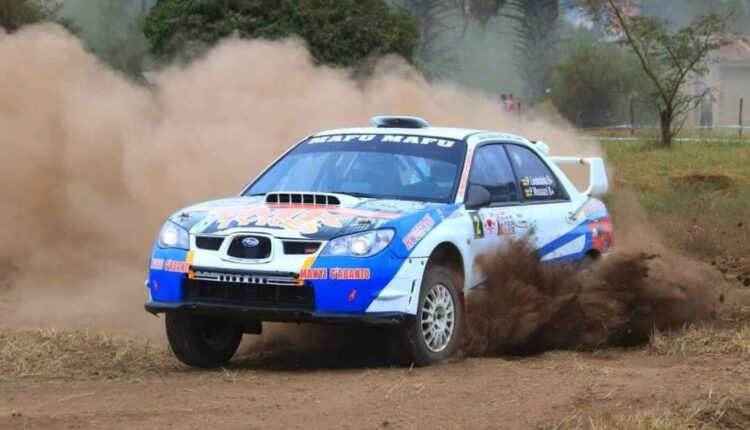 Lwakataka dominates Day1 of Bam Petroleum Masaka Rally
The highly anticipated rally kicked off earlier this morning with the ceremonial start that was held at Golf lane hotel that saw over 23 cars officially flagged off for the rally.
Ponsiano Lwakataka fully powered his Subaru N12 to control the rally from the first stage where he managed to oust his closest rival, Yasin Nasser with a whopping 3 min and 40 seconds.
In stage 3, Yasin Nasser went flat out in the Mpalanyi 1 stage where he managed to decrease the deficit but still with only 08 seconds leaving Lwakataka with a greater advantage towards the Super special stage.
Yasin Nasser dominated the E Villas track where he won all the two stages after his fierce battle against Duncan Mubiru.
Yasin Nasser currently trails second with a time difference of over 3 mins shy of Lwakataka.
Ronald Ssebuguzi seemed not to have a smooth run that he hoped for after the crew cruised their Ford Proto under Fred Kitaka's dust who was limping on the stage.
Currently, Ssebuguzi pushes third with a total time difference of 3min and 17 seconds shy of Lwakataka.
"We were forced to drive on the limit after being blocked by Kitaka for over 20km, " Ssebuguzi told Hapasport.
Joshua Muwanguzi maintained a cautious drive to lead the CRC category with Kiyimba Godfrey and Ahmed Ali second and third respectively.
Godfrey Kiyimba is eyeing a podium finish for the event so he isn't risking it all for a win as he told Hapasport after stage 3.
"We are trying our best to manage the tyres, and these being loose stages, we are maintaining a cautious drive for a finish," said Kiyimba.
Ibrahim Lubega "Pasua" currently leads the 2WD category with Mansoor Lubega and Julius Ssemambo pushing second and third respectively.
Please note that Pasua only needs one win to be crowned 2WD champion and Masaka might be an option as his closest rival, Oscar Ntambi missed out.
However, most of the crews tested the ruthlessness of the Masaka stages as a number of the crews faced several breakdowns in stages.
Among the misfortunes were Stefano Valeri who was forced to stop in stage 1 after the crew faced a turbo issue just a few kilometers into the stage.
The crew managed to overcome the issue but was later forced to retire for the day after their Subaru N10 mis-fired in the super special.
Despite many mechanical issues, Duncan Mubiru was able to finish the day but is still far from a win in Masaka that he had come to defend.
Kitaka Fred also retired for the day after his Subaru N10 blew the engine in stage 2.
There are now only the top 3 competitors left in the race for victory in Masaka, but the competition for second place is very close with only 16 seconds separating Ssebuguzi and Yasin.