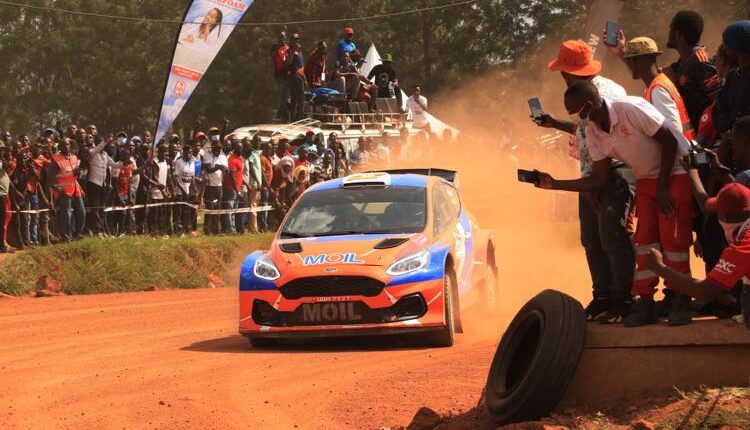 From the opening stages of the EMC Jinja Rally, Yasin Nasser proved to be in a class of his own as he went on to win two of the morning stages with a leading time of over 2 minutes and 14 seconds.
Byron Rugomoka and Innocent Bwamiki put up a stunning performance in stage one and two securing themselves positions on the afternoon podium before the super special stage.
However, mishaps befell several the chasing crews with an early retirement of Hajj Amiri Kavuma whose engine blew just few kilometers towards the end of stage one.
Stage two was more punishing as it clipped out a number of crews. Joshua Muwanguzi was among the crews to taste its ruthness as the crew survived with a front right puncture and a broken suspension with fellow category driver Godfrey Kiyimba sharing the same fate.
Ronald Sebuguzi managed to finish the stage but was seen limping with two front punctures.
As service crews set to their tasks, it was possible for the crews to make it to the super special stage. Ronald Ssebuguzi relied on his pace to slice the gap from Yasin Nasser by putting up a lethal performance through which he managed to beat the NEMO driver on the first pass.
By slashing 30 seconds off Yassin Nasser's lead, Sebuguzi is now in 3rd position down on Bryon Rugomoka who maintains his second overall position. By this standard, Innocent Bwamiki got relegated to 4th position after the end of day 1 with a big opportunity to regain his tuff on Sunday's final day.
Having limped the car through stage two in the morning, Duncan Mubiru's car stalled in the super special forcing the crew to retire on day 1.
Ali and Wazir Omar put up an outstanding performance throughout the day besides pressing car issues associated with the braking system that limited their pace on stage two. Later the duo put up a show in the super special only for the car to misfire at the finish line. Fortunately, they had completed the run but lost a great deal of time.
Ali Muhammed and Anees Muhammed currently top the CRC category after the crew had a fault-free drive throughout day one in their Subaru Impreza N14. The young crew currently sits 5th overall after Day 1.
In the 2WD category, Oscar Ntambi leads with a time difference of 1 minute and 21 seconds from his closest rival Ibrahim Lubega "Pasuwa".
As the engines rave for Day 2 of the rally (Sunday), the race for who will take the NRC MOIL Jinja Rally honors is still open with the Ford Fiesta R5 crew of Yassin Nasser and Ali Katumba looking optimistic to win the rally.