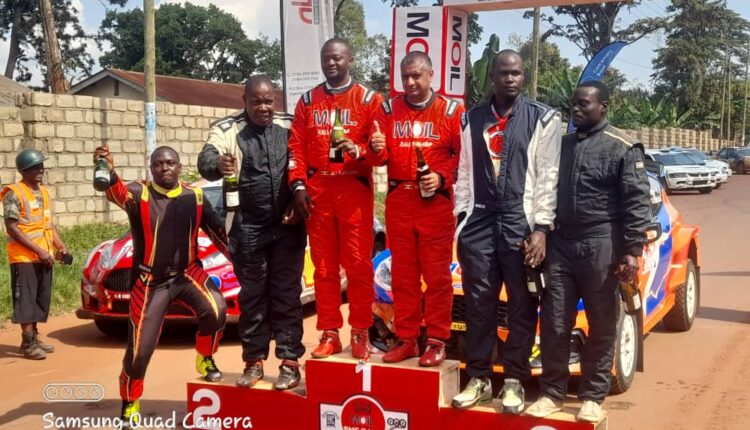 Yasin Nasser Triumphs in MOIL EMC Jinja Rally
It was a remarkable experience for the crews as punishing EMC Jinja Rally was finally dusted and only 15 of the 32 entries made it to the final finish.
Yasin Nasser extended his championship lead with an extra 100 points after the crew successfully triumphed in Jinja.
He won the event with over 08 mins and 06.43seconds over Ssebuguzi.
Yasin Nasser set up an astonishing pace on day two to ward-off Ronald Ssebuguzi who seemed to be targeting his rally lead on day one after winning in the super special stage on both lanes hence slicing his lead with 30 seconds.
Day two saw Yasin formulate a strategy. He continued to maintain a steady pace while cruising the R5 MK2 behind Ssebuguzi, gradually closing the distance between them.
Ronald Ssebuguzi, who put on a stunning performance throughout the event, leapfrogged Byron Rugomoka at the start of day two claiming the second position and maintained it to the final finish.
Unfortunately, Byron Rugomoka was not able to continue with the fight after hitting a stub in stage four forcing him to retire for the day and of course for the rally.
"We were trying to keep-in a corner and then suddenly lost the brakes hitting a stub that damaged the car, " the crew told Hapasport.
Amazingly, Peter Kalule reverts to form after a few years. He completed the podium by upgrading from tenth to an astonishing third position with a steady performance throughout the competition.
Despite numerous mishaps throughout the event, Kalule never gave up, and his efforts eventually paid off.
The young lads Ali Muhammed and Anees Muhammed showed their masters away from the start of EMC Jinja rally as they kept on charging over them in the CRC category.
Ali Muhammed alongside his brother Anees secured their maiden victory in the category just with their second outing in the Subaru Impreza N14. This shows how prominent these youngins are.
Ali Omar "Bobo" finished second in the CRC category just on their debut in the category.
Despite a couple of mechanical issues throughout the event, Ali Omar kept a cautious drive to bid his maiden podium in a rally.
Godfrey Kiyimba alongside his co-driver Urban Mulindwa completed the CRC podium after the crew managed to cruise their Subaru Impreza N8 through stage 5 and being a CRC crew, they only had to do 50% of the rally.
Ibrahim Lubega 'Pasuwa' alongside his co-driver Mustapha Kanakulya with extra 20 points, strengthened their bid for the 2WD category championship.
The crew triumphed in the category and finished 4th overall down on Kalule.
The chasing Oscar Ntambi who had controlled the category lead through half of the event was later forced to retire after limping with a misfiring car through the penultimate stage and never made it through the ultimate one.
Next up is the NRC 5 Masaka rally.